Barbara Brown,




Artist of the Forest  
Sharing with you my love of the forest.
Inspiring you to connect with the Beauty and the
Wonder to be found in the woods.
Author of the book:
Sylvan Reflections:
Wanderings, Paintings & Ponderings from the Forest

Envision a world where Nature in all her beauty is revered
Where we have fallen back in love with the natural world
In all her divine beauty
It is my deepest desire that my work helps to foster this love, this connection, for we take care of what we love — and of course we are, ourselves, Nature.
I am an artist/author/forest-walker bringing to you the beauty and the wonder of the forest.
From my home in the wild & remote forest in the mountains of British Columbia, Canada, and from my 25 year practice of walking in the forest daily, I share with you my love of the forest.
It is my mission to help people deepen their connection with Nature — through my paintings of the forest where I live, and my writings, photography and films about spending time in the forest — through sharing my love of the forest, how it inspires and soothes — I hope to inspire you to appreciate more fully the beauty of Nature that surrounds you. Slow down, get grounded and present; drop into your senses. After all, we are ourselves Nature, so we are connecting with our own true nature. Our lives are enriched, our souls nourished, and some measure of healing happens.
Sylvan Reflections:
Wanderings, Paintings & Ponderings From the Forest
A beautiful book of paintings and poetry, plant lore, mysticism, and mindful musings.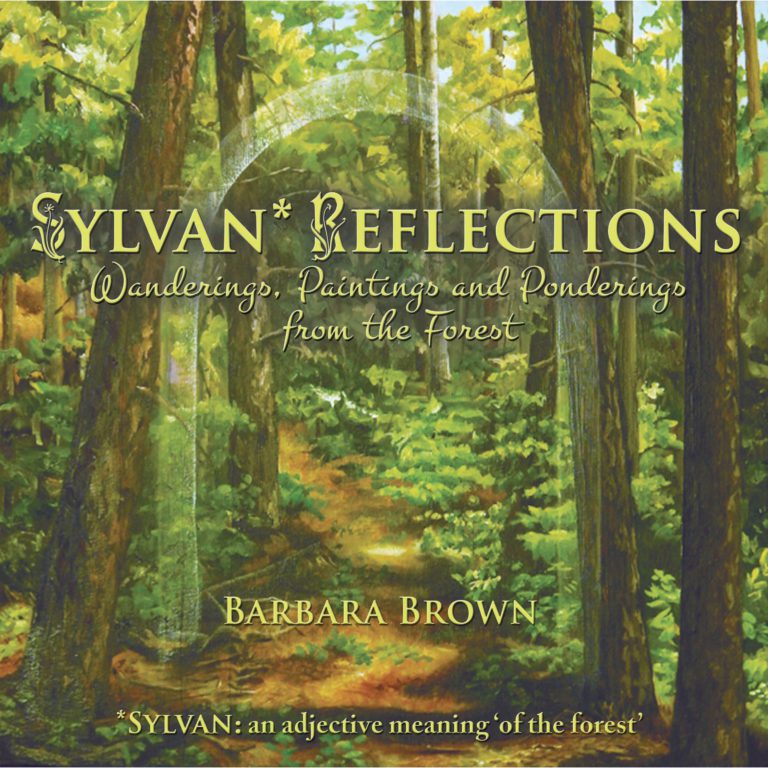 "You are invited into deep intimacy with a forest that can heal you from the inside out, through the extraordinary experience of one who chose to go deep and then share that beauty with the rest of us"
~A review of my work from Clare Dubois, Founder of TreeSisters.org
~~~
Bring the

beauty & the wonder of the forest into your life & into your ho

me
Read Testimonials
"Inviting, inspiring, relaxing…a beautiful book of real art! Shipped quick."
"I feel that I have just taken a walk with you through the forest. As someone who has been practically bedbound since last December … this is so good for my soul, my spirit. I am a meditator, and the commentary, music and beautiful, exquisite images of the forest with all its magic and hidden life are inspirational. Thank you, blessings, namaste"
"In a world full of power lines, motor cars and ringing phones- this work is a breath of fresh air and a pause – to absorb such beauty. You transform my days. You share that the planet is indeed a beautiful world."
"Your book is exquisite, as are your paintings. You have a gift."
"Wow, such a lovely book full of forest beauty and wisdom."
"Barbara has captured the essence of the human soul and its magical connection to nature through her well-written thoroughly enjoyable book."
"Loved your book Barbara. Couldn't put it down. It now lives next to my bed for easy connection. Many thanks"
"Your book sends tingles all over my body and anyone who has felt those feelings while in the forest will be touched as for those who are not forest people, they will be drawn to become forest people because of your work. Thank you, thank you, thank you for sharing your passion."
"This book is so beautiful, the artwork, poems, the journey through the forest, I love it. I really feel that I am journeying with the author through the forest. A true blessing"
"The creativeness of her writing combined with illustrations of her beautiful nature oil paintings are taking the reader in Barbara's magic world right away. The architectural elements along with the nature and words…Beautiful!!"
"I love your work and your passion in everything you do. You are so talented and I appreciate you sharing your beautiful photos and paintings. Your knowledge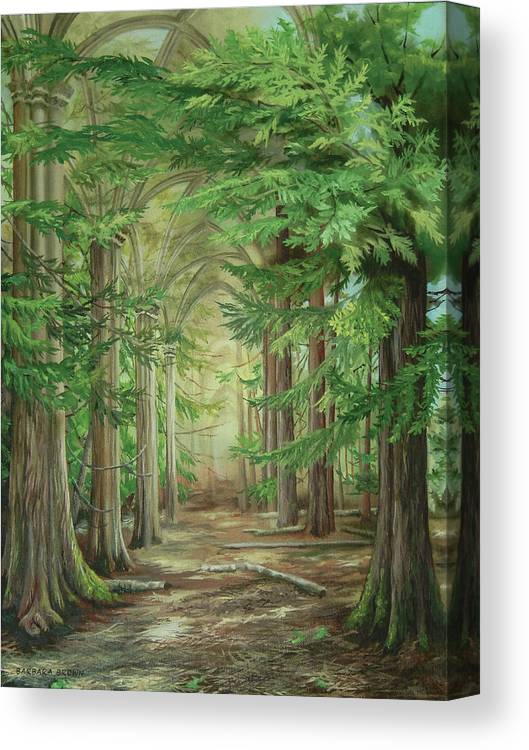 in your writings all combined take us so many places that most of us would never experience. Thank you sweet lady."
"I received the book last week and I have been enjoying it before sleep to relax and revel in nature's goodness!
"AMAZING! The art that comes through you touches my soul. Such an inspiration!"
"As I gazed at your Cathedral painting, I felt a rush of feeling throughout my body I have come to call an integrated feeling of the sacred 
magical and connected sense of myself as an integral holy (wholey) part of Universe (as Buckminster Fuller called this Intelligence/Emergence we are all participating in as an evolving entity).  Wow!"
"I just want to be there…. inside these beautiful paintings…. feel the magic, breathe in the freshness and listen to the sounds of hidden creatures."
"This is breathtaking! Your attention to the forest details is exquisite …… of course the elves love it here!"
"If you can't get out into the forest today,
come, let me take you there, come along with me.
With my paintings, and writings, I want to give you a place to go
~ similar to the way we can 'travel' when we listen to music ~
I want to give you a place where you can rest your eyes and excite your soul,
open your heart and soothe your nerves.
A view of healing green magic.
Come, let's go for a walk together, in the forest . . ."
~Barbara Brown, SYLVAN REFLECTIONS: Wanderings, Paintings & Ponderings From the Forest, p. 4
Sign up for my:
'

News From the Forest

'🌲 eNewsletter,
sent every couple of months with updates of my creative endeavours & woodland wanders
—and receive this free 9-minute guided deep-dive video:
A Forest Meditation gift for you
Immerse yourself in the healing green of the forest
— be relaxed and refreshed as your soul is nourished by connecting deeply 
with nature. 
Download

 

it to return to whenever you'd like an escape into the forest.
(I will never share your email address and you can easily unsubscribe at any time)
With every purchase from me you are helping to save old-growth forests!
I am so pleased to be contributing 5% of my sales revenues to Ancient Forest Alliance, in their cause to protect British Columbia's endangered old-growth forests and to ensure a sustainable, value-added, second-growth forest industry.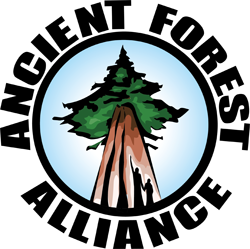 Financial support for the creation of the book and paintings is gratefully acknowledged:
Columbia Basin Trust, British Columbia Arts Council, Columbia Kootenay Cultural Alliance and Slocan Valley Community Arts Council